Why This Class Matters: From Discovering to Doing
Monday, March 20 at 12pm ET
For many students, school is not an objective in and of itself. Rather, it is a step on the road to their futures. By emphasizing how the class supports those future goals, instructors help students see why their course matters. Students can move from first discovering a new skill or concept to applying it in real world situations. Join a panel of faculty advocates to discuss how teaching with applications motivates students and helps them keep their eyes on the prize.
Marissa Dahari
Undergraduate Course Coordinator and Lab Demonstrator , University of Guelph
Marissa Rhea Dahari completed both her B.Sc and M.Sc at the University of Guelph. Her thesis research focused on genetically altered proteins of the human heart, leading to disease states such as cardiomyopathy. Dahari, M. and Dawson, J. Do cardiac actin mutations lead to altered actomyosin interactions? Biochem. Cell Bio. 93 (4), 330-334 (2015).
After completing her Master's Degree in 2012 she was hired at the University of Guelph in the College of Biological Sciences, Department of Molecular and Cellular Biology. Since working as an undergraduate teacher, Marissa has had the opportunity to instruct many courses including Introductory Biology, Human Genetics and Developmental Biology. She has also sat on a variety of undergraduate committees related to undergraduate teaching and curriculum development and is actively involved in equity and diversity initiatives.
Marissa extended her love for teaching outside campus and also taught group exercise classes at Goodlife fitness from 2014-2020. When Marissa is not engaged with her teaching roles, she is kept busy by her Australian Shepherd and her two little ones.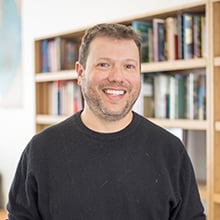 Scott Cohn
Associate Professor of Psychology, Western Colorado University
Dr. Scott Cohn is an Associate Professor of Psychology at Western Colorado University in Gunnison, CO. Teaching primarily in person, Dr. Cohn's migration to online assessment over the past decade has been motivated by the desire to spend more time in class teaching rather than assessing. In the past two years, Dr. Cohn has led several conference workshops and presentations on the development of highly-accurate assessment items that objectively measure Psychology's skills-based curriculum. Currently Dr. Cohn is the Program Assessment Lead for Scientific American: Psychology, where he assists the authors in their development of an assessment program that is accessible to both students and faculty.